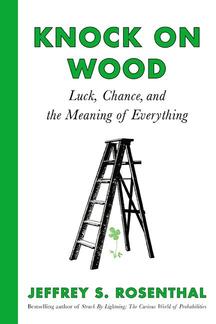 Knock on Wood
Luck, Chance, and the Meaning of Everything
---
Knock on Wood: Luck, Chance, and the Meaning of Everything is a book about the concept of "luck" in its various senses, including such notions as fate / destiny / karma / superstition / astrology / ESP and more, and how we can avoid "luck traps" to discover the truth -- all from the perspective of a professor of statistics. It was published in Fall 2018 by HarperCollins Canada. See the book's web page at harpercollins.ca or harpercollins.com and a Q&A1 and Q&A2. It was also published in Japan by Hayakawa (January 2021; see cover), and will be published in Croatia by Profil Knjiga.
The book is available from amazon.ca (or paperback / kindle edition), amazon.com (or paperback / kindle), indigo.ca (or paperback), amazon.co.uk (or kindle), amazon.in (or kindle), Barnes & Noble, Walmart, iBooks, UofT Bookstore, and at the Toronto Public Library / ebook [see tweet] and UofT Library. ISBN: 9781443453073.
It went on-sale on October 2, 2018, with a book launch on October 4.
See also the clickable endnotes (pdf), the dust jacket / alt, Knock On Wood on wood, and the publicity activities below (including this Mulroney TV interview, this CBC radio interview, this UWO talk [or mp4], and this Bloor Cinema talk [or mp3 or mp4]), as well as my previous bestselling book Struck by Lightning.
---
Praise for Knock on Wood (see also the SBL reviews):
"A thoroughly engaging book. Each page provides a charming anecdote illustrating an insight that will make you smile in recognition of a surprising truth. Get this book for yourself but also for family and friends both those who believe only logic, science, and cause and effect have all the answers." -- Michael Adams, president of Environics and author of Could It Happen Here? Canada in the Age of Trump and Brexit and Fire and Ice: The United States, Canada and the Myth of Converging Values

"'Good luck!' Something we say almost every day with best of intentions but little thought. What are we really honouring when we say good luck? Knock on Wood is a must-read for anyone who wants to understand why things happen." -- Darrell Bricker, CEO, Ipsos Public Affairs, co-author of The Big Shift

"Whether it's a conscious thing or something we do everyday without even thinking about it, it's pretty safe to say that all humans are at least a little bit superstitious. From not walking under ladders to always entering and leaving a building through the same door to never uttering the name of The Scottish Play inside a theatre, the acts we associate with bad luck are seemingly infinite. Exploring the origins of luck around the world, and whether or not it actually exists at all, Jeffrey S. Rosenthal's Knock on Wood: Luck, Chance, and the Meaning of Everything is a great read for believers and non-believers alike. While some superstitions can be explained away as pure common sense - it's just a dangerous thing to do - others, like four-leaf clovers, rabbit feet, and 'lucky' pennies as signs of good fortune are a little harder to explain away. With humour, science, and a bit of a tongue-in-cheek attitude this University of Toronto statistics professor is sure to entertain and inform you in equal measure!" -- Books on Beechwood

"5 stars out of 5. Indispensable Reasoning for Everyone - Beautifully Done. Stumbling upon a book on luck and probability written by a professor of statistics, one might expect to see a lot of formulas and calculations. Well, not in this case. This is a book for everyone - the math phobic included. In prose that is friendly, lively, authoritative, witty and immensely captivating, the author discusses a great many real-world topics from a luck/probability point of view. The topics are quite varied: coincidences, superstitions, sports, lotteries, polling, astrology and religion just to name a few. The author also includes a few snippets from his personal life, giving the book a very special human touch. When discussing a given topic, perhaps some ridiculous superstition, the author does not immediately dismiss it out of hand; he first of all takes a serious look at the associated numbers and logic which then lead him to the obvious conclusion. I enjoyed this book very much, as I did his prior book (Struck by Lightning) and I hope to see more such books in the future from this gifted author. ... An excellent read!" -- First amazon review (Oct 6, 2018)

"Enthralling and informative ... In this well-written, sometimes humorous, formula-free book, Rosenthal delves into the worlds of luck, fate, and chance to deduce whether luck is real or just the stuff of superstition. ... I guarantee that after you read this book, you will think differently about the role of luck in your life. ... A must-read for those who want to understand why things happen." -- goodreads.com (Jan 22, 2019)

"Congratulations on the book, it's a marvelous, wonderful read ... a delightful new book." -- The Drew Marshall Show (3:57 and 19:20)
---
Author Publicity Activities for Knock On Wood (see also the SBL publicity activities):
In 2018, I appeared on "Your Morning on CTV" with Ben Mulroney on Tues Oct 2 at 8:38 am (see photo1, photo2, video1, video2, youtube, mp4), and GlobalTV's "The Morning Show" on Tues Oct 9 at 9:20 am (see video, mp4), and CBC Radio's "The Current" with Anna Maria Tremonti on Tues Oct 9 between 9:30 and 10:00 am [rebroadcast on Dec 31] (see recording and summary, excerpt, mp3, snippet1, snippet2). On Oct 5, I had a Q&A published by U of T (reprinted on phys.org and in Education News), and a related piece published in the Globe and Mail. On Oct 19, I was interviewed on CityTV's Breakfast Television (see video, mp4), plus I recorded some lottery probability answers for Newstalk 1010 radio.

On Oct 31 between 11:00 and 12:00 ET (12:00 and 1:00 AT), I did a call-in show on CBC Maritime radio (see audio file beginning at the 11:49 mark). I gave talks about my new book in the university lecture series in Oakville on Oct 29 (see photo), in Markham on Nov 1, and in Toronto's Bloor Cinema on Nov 7 (see photo, audio, YouTube, mp4). On Sat Nov 17 between 2:30 and 3:00, I was interviewed live on JOY 1250 radio in Oakville (see audio, mp3). On Nov 23 I was interviewed for a Globe & Mail article about hockey probabilities.

On Tues Dec 4 at 6:15, I gave a talk to CFI Toronto at 485 Queen St W, Toronto (see poster, eventbrite, meetup, Open Book announcement). On Wed Dec 5 at 5:00, I gave a talk at the Rotman School (see Facebook, excerpt, streaming, mp4). Then on Thurs Dec 6 at 6:30, I gave a public talk about luck for CANSSI in Vancouver (see eventbrite, announcement, video, mp4). The next day, Fri Dec 7, I was interviewed by Global News Morning BC television at 10:15am (see video, mp4), and by The Simi Sara Show (radio) at 12:35pm.

In 2019, I gave talks about the book to the Humanist Association of Toronto (HAT) on Sat Jan 12 (see announcement, Facebook), to the Harvard Club of Toronto on Wed Mar 6 (see event), at University of Toronto Senior College on Wed Mar 13 (see announcement), to the Centre for Inquiry Canada in Ottawa on Sun Mar 17 (see eventbrite, meetup, Facebook), at the University of Windsor on Mon Mar 25 (see tweet, poster), to Oraynu on Tues Apr 2 (rescheduled from Feb 12; see event), at CRAM Toronto at 9:00 PM on Fri Apr 5 (see interview), at the 2019 MBNCanada National Forum on Thurs Apr 11, at Brentwood Library on Tues Apr 16, at Northern District Library on Wed Apr 17, to the Halton Peel Humanists on Tues May 14 (see meetup, facebook, youtube), at Mississauga Secondary School on Wed May 22, at the U of T Alumni Reunion on Sat June 1, to the Grey Bruce Humanists on Sun Oct 20, and to the Western University Senior Alumni on November 22.

I also gave a French-language research talk to graduate students at UQAM in Montreal on Mar 15, a research colloqium at the University of Windsor on Mar 26, a DA/Fujitsu Monthly Meeting seminar on April 23, a Criminal Law Conference talk in Vancouver on Jun 7, and a research talk at the JSM in Denver on July 30. Plus I performed music for Middle Raged on March 8/9/10/23 in Oakville and March 13 in Toronto. And I did media interviews about lottery probabilities for CBC Kitchener on Jan 12, and CBC Iqaluit on Jan 16, plus interviews about luck and statistics with CBC Windsor on March 26, and with Canadian Atheist on April 12 / April 27 / May 21, and about the Toronto Raptors with CityTV News (also on 680 News) on May 13, with 680 News on May 15 (see audio), on CTV National News (21:36) on May 25 (see mp4 file), and for CP / sportsnet / Toronto Star / CityNews / TSN and also for CityTV television on May 30 (see image), and for CBC Newsworld and Radio-Canada (in French) on May 31. I also did interviews for BBC about a safe on June 5, and about Raptors probabilities for CTV News Channel and for torontolife.com on June 10. I did a podcast interview released on Sept 23. On Oct 7, I was interviewed on CTV's national morning show Your Morning (see web page, mp4). On Nov 22, I spoke to about 500 UWO alumni (and sold 72 book copies!) (see youtube, mp4). On Nov 26, I spoke at the Arts and Letters Club. And I was mentioned in a former Prime Minister's tweet.

In 2020, I was interviewed about Lotto Max on Jan 2 on CBC News with Carole MacNeil (see photo), on Jan 3 on CBC TV News Toronto by Greg Ross and on CBC TV's The National (see photo), and on Jan 7 on The Natasha Hall Show in Montreal. I was interviewed briefly about coronavirus and death risks on Feb 4 for GlobalTelevision, and on March 2 for CityTV and for 680 News (see tweet), and on March 25 for The Pointer, and on March 31 for UofT News (copied here and here), and on Sept 17 with Geoff Currier on CJOB radio. I spoke at UC SCR on Jan 27, and at Osgoode Hall on Jan 29. And, I was scheduled to speak at Harold Brathwaite Secondary School (Brampton) on April 22, to U of T Alumni on May 28, and to the Bootmakers (Sherlock Holmes) Society on Oct 24, but those talks were postponed due to COVID-19. I spoke to UofT about luck on May 13, and to the Grey-Bruce (Owen Sound) Humanists by Zoom on Oct 18, and did an interview about election polls published on Nov 2, and was interviewed on CBC Radio's Here and Now about Friday the 13th on Nov 13 (see audio1, audio2, UCnews), I published an article about election polls in the Globe and Mail on Nov 13/14 (see text / top / bottom / page), and in the IMS Bulletin on Dec 16.

In 2021, on Feb 10 I did a series of 13 regional CBC Radio syndication interviews about the science of luck (see audio from Ontario Morning), and on Apr 5 I was interviewed (again) by Geoff Currier on CJOB radio about coronavirus statistics, and in December was interviewed for an article about pandemic-era data (not to mention appearing on a cooking show and again).

In 2022: On Jan 20 my CRAM Podcast interview was posted. On Feb 21 my Wired Magazine Q&A was posted (1,800,000 views!) (also in Taiwan / Japan). On Mar 14, I did an interview about pi on 105.9 FM The Region (Vaughan) radio. On Mar 25, I did an interview about Lotto Max on CJAD 800 AM radio (Montreal). On Apr 24, I was briefly quoted in a Canadian Press story about Ontario election polls. On June 23, I had interviews posted on the podcasts The Last Word (Arizona) and Something You Should Know. In September, my UofT What Now podcast was aired.

In 2023: On Sept 12, my Random Sample (Australia) podcast aired. On Sept 27, I was interviewed by CP24 and CTV about the Lotto 6/49 gold ball probability draw (see photo, video).

For publicity announcements, please follow me on Twitter.
---
The book Knock on Wood may be ordered from e.g. amazon.ca (or kindle) or amazon.com (or kindle), or from most bookstores.
See also Jeffrey Rosenthal's previous book and non-research writings and home page.