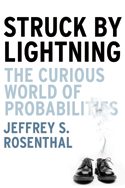 FirstLook reviews of
---
Below are the Reader Reviews for Struck by Lightning from HarperCollins' FirstLook program, as displayed on the publisher's page about the book. Thanks to all the reviewers!
More information about the book is available at the Struck by Lightning main page.
---
"A fascinating read! Rosenthal delights with his descriptions of how likelihoods can be used to make predictions. The explanations are written in a very accessible and enlightening way. This is a useful book for anyone who makes decisions and an entertaining book for anyone who is interested in probabilities of outcomes. Highly recommended."
-- Alanna (Toronto, ON)
"Even if you spent years of school hating math, you're bound to find it much more interesting when it's applied to poker and lotteries, the odds of bumping into someone you know far away from home, or in quelling your fears over crime. Rosenthal smoothly soothes some of our everyday fears without taking the magic out of life's little oddities. Definitely a fun -- not to mention useful -- read."
-- Lisa (Newmarket, ON)
"Struck by Lightning, The Curious World of Probabilities is a good read. Every child is cautioned about being struck by lightning and the worry lingers when skies darken and thunder claps. Jeffrey S. Rosenthal takes the fear out of everyday risk taking. He encourages us to make our own decisions, sometimes tough decisions, about the many things that influence daily life weather, lotteries, surveys, health and computer viruses, plane crasheseverything that touches randomness. Struck by Lightning will be a good read for university students taking their first Stats course. In Mickey Splane style, the light-hearted stories change our perception of luck and skill, chance and romance. We want to beat the bank, to risk the cards, to be in the game. It's ok to hope for the big one, writes Rosenthal, but take a look at important probabilities."
-- Eileen (Vancouver, BC)
"This book was so interesting because it made me think in a whole new way!"
-- Suzi (Listowel, ON)
"This book is an enjoyable journey into math and statistics that is both enlightening and entertaining. The book is written in an easy-to-understand manner, with excellent real-life examples of everyday statistics. The author obviously has a great passion for his work and brings a difficult subject down to an every-person level. I thoroughly enjoyed it."
-- J. David (Toronto, ON)
"Struck By Lightning does a fantastic job of making probability accessible to non-math geeks. This would have been a great one to accompany my statistics course in university! ... This book is highly readable and enjoyable. I especially enjoyed the little 'final exam' at the end!"
-- Maria (Toronto, ON)
"This book is very amusing and full of interesting probabilities. Even though it is written by a math professor it is very easy to understand the different concepts and ideas because the author explains things very well. It is a very well written piece of non-fiction that makes one think about the random side of life."
-- Daymara (Dunchurch, ON)
---
The book Struck by Lightning may be ordered from e.g. amazon.ca (or in paperback) or indigo.ca (or in paperback) or amazon.com, or from most Canadian bookstores. See also the Struck by Lightning main page.