SERIAL DINERS ARTICLE #2
This is a reprint of an article about the Serial Diners, a group founded in 1989 and dedicated to dining at every restaurant listed in the Toronto Yellow Pages (in alphabetical order), at the rate of one per week. The group meets every Friday at the designated restaurant at 6:00 p.m. All are welcome! See also the Serial Diners current agenda and official rules.
---
Alphabet soup
More than a decade ago, a bunch of U of T characters began to dine from A to Z using the Yellow Pages as a restaurant guide
BY LAUREN BLANKSTEIN
Most graduates walk away from university with a degree, good friends and a collection of memories. Jason Taniguchi has all those things as well as an ongoing legacy - the Serial Diners.

Taniguchi's U of T-inspired dining club uses the restaurant listings in the Toronto Yellow Pages as its guide and dines, in alphabetical order, at almost every establishment listed. The club started at A in 1989 when Taniguchi was in his third year and is now midway through the Ds.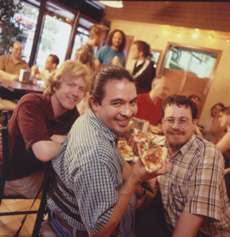 Photo. From left: Stephen Barringer, Jason Taniguchi and Charles Levi. Photography: Mark Stegel. Shot at Downtown-New York Pizza.
Each year the official switch to the new Yellow Pages occurs July 1. According to club rules, members pick up exactly where they left off in the old Yellow Pages, ignoring any new restaurants that were added earlier in the alphabet. On the club's seemingly momentous 10th anniversary last November, there was barely a celebration. At Diamond Pizza on Main Street, members simply played a special diners' history trivia game and passed around a copy of the first-ever Serial Diners' invitation.
"The Serial Diners evolved out of gatherings I had in residence," explains Taniguchi. The English major (BA 1991 Trinity) set aside every Friday afternoon to "hang out" in his room at Trinity College. Friends would meet and then go out for dinner.
"It took us 40 minutes to figure out where to go," he recalls. So he looked to the Yellow Pages to impose a selection on everyone. In its first year, many members were Trinity College students. But as word spread the club attracted more foodies beyond the campus. Go figure, but this wacky little club kept growing. If all continues to go well, members should be dining in the Zs in 33 years.
Without fail, participants meet every Friday night at 6 p.m. at the appointed restaurant. They usually number between seven and 20. Out of the several hundred people who have attended, some come once and never return, some show up a few times a year, and some - including U of T alumnus and club chronicler Charles Levi (BA 1992 UC) - maintain a fiercely loyal core group.
"Everyone here is a character in the old-fashioned sense of the word," says Stephen Barringer (BA 1993 St. Michael's, MA 1994), a member since 1993. In fact, they seem to pride themselves on looking out of place whether they're in an upscale restaurant or a seedy dive. They are easily identified by the gales of laughter resonating from their table.
Do they eat at every restaurant the Yellow Pages dictates? Not quite, but close. For instance, in June they faced dining at two doughnut shops - what they called the Homer Simpson Fortnight. Instead they opted to dine elsewhere rather than subject themselves to a dinner of doughnuts. When this happens, a favourite alternative is Ristorante Roma on Bloor Street West, which they say has one of the best pizzas in the city. "It's probably the closest the diners have to a favourite because it's often the choice when our official restaurant flounders for one reason or another - which is funny because it's an R restaurant, so we never should have eaten there in the first place," says Levi.
Interestingly, they do not have a favourite U of T haunt. "You'd think after 10 years we'd have found a place around U of T that would have been a delight," says Taniguchi. Levi sums it up best: "Students who attend the university are tempted to eat in all the restaurants in the Yellow Pages precisely because the campus precinct is so dismal."
Clearly, the group has not been lured alphabetically near campus often enough since graduation. If they had advanced to the Ms (Messis) or to the Gs (U of T's own Gallery Grill), they would have encountered enough delicious options to send Homer Simpson straight to heaven.
For more information, contact Jason Taniguchi at (416) 516-0743 or jtanig@gmail.com, or check out the Serial Diners current agenda or official rules.
---

This page is maintained at http://probability.ca/diners/article2.html; please send corrections to Jeffrey Rosenthal (contact me).