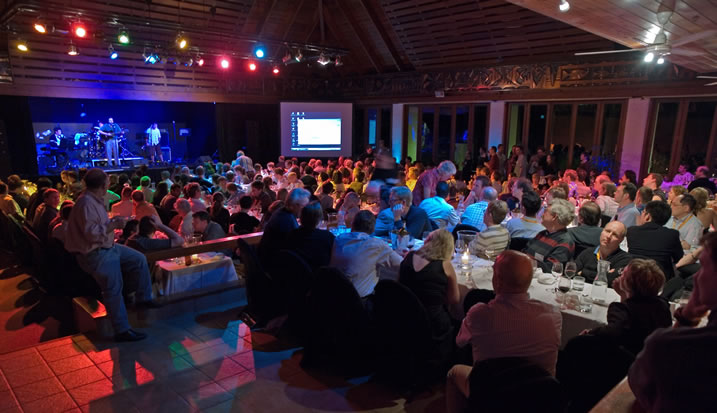 I enjoy playing rock, blues, and folk music. I own and play (in approximate order of competence) the following musical instruments: guitar, keyboard, harmonica, saxophone, trumpet, penny whistle, and bongo drums. I also sing, and write songs.

Quick links to some MP3 sound files: Knapsack Woman, High Park, Confusing Wonder, Over and Over Again, Never Satisfied, Aide-moi, Aide-moi, Anywhere.

... and to some youtube performances: MCMC Saga, Bayesian World, Valencia, The Number, MOOC song.

... and to my house band: the Lasagna Hogs (see the home music recordings).

... and for singalongs: my songlist.
---
---
---
And now some details ...
---
I sometimes perform musical accompanyment at comedy shows, see e.g. here and here and here.
---
In June 2015, I performed musical accompaniment for the Mumberley Inheritance play (see flyer, poster, Facebook, review1, review2, YouTube recording).

In February 2017, I performed musical accompaniment and voices for a Sherlock Holmes short play (see video).
---
In 2011 I did a quick home recording of a silly new song, based on a true story: The Saga of the Organic Vegetable Delivery (3:06; see mp3 file and lyrics).
---
In early 2009 I started a house band, the Lasagna Hogs, with Paul Jan Maria Szeptycki and Margaret Fulford. Check out the band web page including home music recordings.
---
In 2007 I did some more multi-track home recording, including the new song Knapsack Woman (4:24; see mp3 file and lyrics).
---
In 2000, I recorded the CD Just for Fun; see the sound files and lyrics.
---
I have done various live musical performing and recording, around Toronto and elsewhere, including:
---
I have also performed statistical spoof songs at various statistics/probability conferences, for example:
---
I have also done various other musical performing, including:
Creating a MOOC song video for an introductory statistics MOOC (free on-line course) (see youtube video, mp3 audio file, lyrics).
Being a guest performer with the band Tuna Casserole Blues -- featuring Mike Rosenthal, Mark Watts, and Kevin Wimberley -- who perform blues music at various clubs (including the Black Swan, on Danforth at Broadview) (see photo).
Performing at open mic events run by Danny Marks.
Performing solo at the "Salon talent nights" run on Tuesday evenings and some Sunday evenings at Fitzgerald's Pub (Queen St. E., at Scarborough Rd.), at Siren's (2213 Queen St. E., at Wineva), and at Lido's (1971 Queen St. E., east of Woodbine).
Being a guest performer at the restaurant/club The Wild Indigo (on College St. at Clinton).
Recording one verse (0:58) of Paul Simon's The Boxer, available in streaming RealPlayer (123K) or larger RealPlayer (606K) format.
Recording some music with my nephews Jeremy (violin, bass) and Aaron (guitar, vocals), e.g. this excerpt (or wav) and this excerpt (or wav).
---
See also my article about the mathematics of music, and a related radio interview.
---
Please e-mail me if you would like to be informed of future musical performances.
---
---
[Back to Nonwork Page / Home Page / contact me]